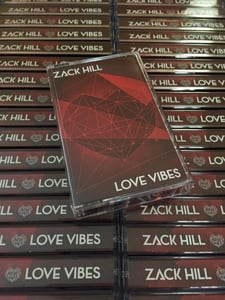 $

5.00
Zack Hill has put together the perfectly crafted mixtape to pay respect to a long lost art form!
Love Vibes is a limited edition (100 copies - hand numbered) 90 minute mixtape packed with deep house vibes.
Each mixtape comes with a full color j card insert as well as an individual download code good for 320kbps MP3 or AIFF download of the entire mixtape!
This project is available exclusively through our online store and will not be available for download! Order quick before they're gone forever!
Available July 1, 2015
Zack Hill - Love Vibes (Mixtape)
A Vibes:
Vincenzo - The Clearing Mood - Dessous
Second Hand Satellites - Orbit 1.4 - Hallucination
Frankman - Make It Rough, Make It Smooth - Dessous
Solomonic Sound - Children of Isreal - White Label
Rhythm & Sound w/ Tikiman - Ruff Way (Afefe Iku Remix) - ARP
Black Coffee feat. Zakes Bantwini - Juju (Halo & Atjazz Dub) - CityDeep
Vince Watson - Eminescence - Yoruba Records
B Vibes:
Succulent - Freshly (Solomonic Remix) - Worship
Dennis Ferrer - I Can't Go Under - Objektivity
Dennis Ferrer - Son Of Raw (Loco Dice Remix) - Objektivity
Andre Lodemann - Where Are You Now? - Best Works Records
Peace Division - Beatz In Peacez 3 - NRK
&ME - After Dark - Keinemusik
Maceo Plex - Falling - Visionquest
Run Time: 90min.