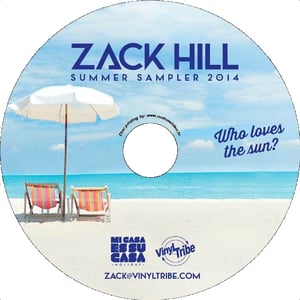 $

5.00
Zack Hill has released his annual Summer Sampler mix for 2014, and this year marks the first year the release will be available exclusively on CD!
We have had the mix professionally mastered and have pressed 500 copies. Once they're gone, they're gone!
Zack Hill - Summer Sampler 2014
Nu & Jo Ke - Who Loves The Sun? (DJ Dino & ChrisIDH Edit) - Unreleased
Benny T - Talking To My Drums - Afro Rebel Music
Bucie - Do You - Tribe Records
Timmy Regisford - Fly - Tribe Records
Black Motion feat. XoliM - Set Me Free (Early Breeze Mix) - Kalawa Jazmee Records
Cuebur feat. Marissa Guzman - No Doubt - Defected
Miguel Migs feat. Aya - The Distance (Thor Deep Soca Tech Dub) - Salted Music
Demarkus Lewis feat. John Griffin - Tell Me Why (DeezPass) - Slip n Slide
Alice Smith & Aloe Blacc - Baby (Abacus Remix) - Giant Step
Crussen - Sun Walking (Bootleg) - Unreleased
Idjut Boys - Whok Tish - U Star Recordings
Run Time: 64min.